Yoga Retreat
Beach yoga & Rooftop Yoga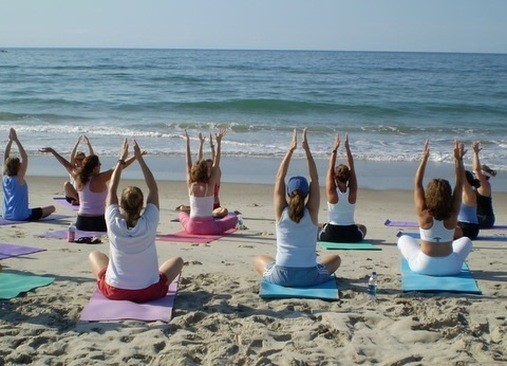 We are the highest rated B and B or Inn in the area by Tripadviser and the only that offers Yoga retreat packages. We offer a yoga retreat several weeks a year. Our staff of local yoga instructors, teach many types of yoga and have many years of experience. They come from around the world. We offer Hatha Yoga, Ashtanga Yoga, Bikram hot yoga and others. With 10 rooms, a lagoon style pool and a spa overlooking the beach and Pacific. Our restaurant is open for breakfast lunch and dinner. We serve healthy local fish and sea food, Mexican food and many other tasteful delights. A Vegan menu is offered. Standup paddle board, surfboards, beach bike rentals and horseback riding are available.
Highlights
Daily yoga practice
A great view of the ocean
Various other activities to choose from
A chance to explore Baja California
High rated and commendable inn
6 nights accommodation
5 day(s) with instructions
English
Instructors
Jennifer Langly, Windy Johnson, and Kim Wright are the instructors for this retreat.
Food
The Cerritos Beach Inn menu is tailored to the requests of the guests. Upon your reservation, you will be offered a variety of choices. If you are a vegetarian, they can design a menu for you and include your favorite items. Breakfast, lunch, and dinner are available. With the finest cooks in the area and many organic locally grown items, the menu will please every taste.
Types of menus offered
Seafood
Vegan
Mexican
Italian
For the more hardy appetites, there are hamburgers, deli sandwiches, and steaks
What's included
1 day horseback riding on the beach
1 surf lesson
1 massage
6 nights accommodation
Activities stated in itinerary
Food and beverage
Yoga classes
free airport shuttle
What's not included
Trips or activities at the Sea of Cortes
Surf board and ATV rentals
Pricing
1 person
Private room
Desert - mountain view room (king bed)
$2,550 USD Total Price
1 person
Private room
Ocean front deluxe room (king bed)
$3,375 USD Total Price
2 persons
Double room
Desert - mountain view room (2 queen beds)
$4,725 USD Total Price